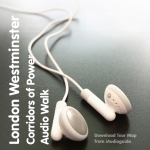 An Audio Guide to London Westminster – Corridors of Power: Royalty, Pageantry and Parliament! London: A vibrant capital city steeped in history. Our unique mix of royal pageantry and parliamentary democracy has been developed over a period of 1000 years. As a result many of our major landmarks and traditional ceremonies are world famous. From the Changing of the Guard at Buckingham Palace to the iconic Big Ben at the Houses of Parliament, who has not imagined witnessing these attractions for themselves? Listen to preview and donlaod or stream the guide here, or continue reading. The guide is available at Amazon – iTunes – Google Play Music – Spotify. Click on the audio page of your choice, and listen to a preview there.
This is the 'must do' tour for any new visitor to London as we take in many key royal and parliamentary attractions while giving you insight into how the monarchy and government have evolved into the eclectic mix they are today.
Sites and attractions passed are the Houses of Parliament (including "Big Ben"), Westminster Abbey, St James's Park, Buckingham Palace, Clarence House, St James's Palace, Trafalgar Square, Whitehall, Downing Street, Horse Guards Parade, The Cenotaph. The distance is approx. 4 km, the full audio tour lasts for 60 minutes and usually takes about 2.5 hours to walk. The audio walk starts outside the Houses of Parliament (Westminster tube station). Track one of the walk will give you full instructions, this si the full list of tracks with their location.
01 Introduction,SW1A 2LW,Bridge St, London SW1A 2LW
02 History of Big Ben,SW1A 2LW,Bridge St, London SW1A 2LW
03 To Houses of Parliament, SW1A OAA,House of Commons, London SW1A OAA
04 Some History of Parliament, SW1A OAA,House of Commons, London SW1A OAA
05 To Victoria Tower, SW1A OAA,House of Commons, London SW1A OAA
06 More Parliament History, SW1A OAA,House of Commons, London SW1A OAA
07 Parliamentary Traditions, SW1A OAA,House of Commons, London SW1A OAA
08 To the Jewel Tower, SW1A OAA,House of Commons, London SW1A OAA
09 History of the Jewel Tower,SW1P 3JY,Abingdon Street, London, SW1P 3JY
10 To Westminster Abbey,SW1P 3JY,Abingdon Street, London, SW1P 3JY
11 Continuing to Westminster Abbey,SW1P 3PA,Westminster Abbey, london SW1P 3PA
12 History of Westminster Abbey 1,SW1P 3PA,Westminster Abbey, london SW1P 3PA
13 To Abbey's West Door,SW1P 3PA,Westminster Abbey, london SW1P 3PA
14 More History W'ter Abbey,SW1P 3PA,Westminster Abbey, london SW1P 3PA
15 To Queen Annes Gate 1,SW1P 3PA,Westminster Abbey, london SW1P 3PA
16 Continuing to Queen Annes Gate,SW1P 3PA,Westminster Abbey, london SW1P 3PA
17 History of Queen Annes Gate,SW1H 9BT,Queen Anne's Gate, London SW1H 9BT
18 To St James Park,SW1H 9BT,Queen Anne's Gate, London SW1H 9BT
19 History of St James Park,St James' Park, The Mall, london SW1
20 To Buckingham Palace,St James' Park, The Mall, london SW1
21 History of Buckingham Palace,SW1A 1AA,Buckingham Palace, London SW1A 1AA
22 To Clarence House,SW1A 1AA,Buckingham Palace, London SW1A 1AA
23 History of Clarence House,SW1A 1BA,Clarence House, London SW1A 1BA
24 To St James's Palace,SW1A 1BA,Clarence House, London SW1A 1BA
25 History of St James's Palace,SW1A 1BQ,St. James's Palace, London SW1A 1BQ
26 To Duke of Yorks Column,SW1A 1BQ,St. James's Palace, London SW1A 1BQ
27 History of Duke of Yorks Column,SW1Y 4AR,Waterloo Place, London, SW1Y 4AR
28 To Trafalgar Square,SW1Y 4AR,Waterloo Place, London, SW1Y 4AR
29 History of Trafalgar Square,WC2N 5DS,Trafalgar Square, London WC2
30 To King Charles Statue,WC2N 5DS,Trafalgar Square, London WC2
31 Orientation at King's Statue,WC2N 5DS,Trafalgar Square, London WC2
32 To Horseguards Parade,WC2N 5DS,Trafalgar Square, London WC2
33 History of Horseguards Parade,SW1A 2NS ,Horseguards Parade, London SW1A 2NS
34 To Banqueting House,SW1A 2NS ,Horseguards Parade, London SW1A 2NS
35 History of Banqueting House,SW1A 2ER,Whitehall, London, SW1A 2ER
36 To Downing Street,SW1A 2ER,Whitehall, London, SW1A 2ER
37 History of Downing Street,SW1A 2AA,Downing Street, London SW1A 2AA
38 To Cenotaph,SW1A 2AA,Downing Street, London SW1A 2AA
39 History of Cenotaph,SW1A 2BX,Whitehall, London, SW1A 2BX
40 Close,SW1A 2BX,Whitehall, London, SW1A 2BX